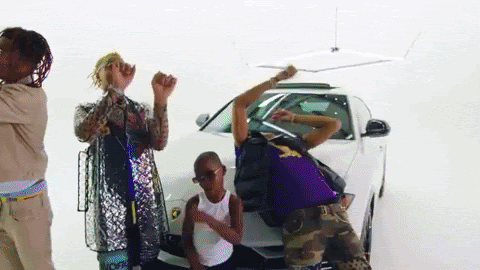 Nothing looks more fun than Lil GotIt and Lil Baby's "Da Real HoodBabies (Remix)" video. It has everything you need for a good time: puppies, baddies, a stylish AF toddler, a Lambo, a $215 Commes Des Garçons beanie, the homies, and of course Da Real HoodBabies themselves. They trade bars about the women in their life and the money they are making, Lil GotIt brags about his success, "Everything going up like a motherf***ing hill," while GotIt boasts that he's already gifted his toddler a car, "My lil' boy 3, I just gave him a 'Vette."
Lil GotIt cut a blazing path through Atlanta's trap scene. Since the release of his debut project Hood Baby in 2018, GotIt has dropped records with Gunna and Lil Uzi Vert. In March, the Alamo Records signee shared Crazy But It's True, which featured appearances from Lil Durk, Gunna, Hoodrich Pablo Juan, Lil Keed, and many others. Stay tuned for more music including an upcoming project produced in full by London On Da Track.
© 2019, Seth Barmash. All rights reserved.