When a record speaks for itself, somtimes you just have to post the lyrics. Lil Baby dropped at a perfect time in history. Not only addressing the flaws of the system and racism but also taking accountability for his own detremental actions and lyrics. Understand where we came from and how a good kid may just have to carry a gun because of his enviorment. Understand the constant reminders and rules to stay alive, guides and habits we teach our children should only be taught to our soldiers in combat. We have to teach our children to survive because the country does not want to acknowlege the true source of our conditions… America.
Imagine asking you abuser to arrest your oppressor? Imagine asking your killer to tell the world, that its the very same stars and stripes that preach freedom and justice, has been sanctioning the mass execution of a race. We stand no chance until we reflect, recollect, teach and grow together. Lil baby hits these key points with this record "The Bigger Picture".
Some Key song lyrics to highlight:
"I find it crazy the police will shoot you and know that you dead but still tell you to freeze Fucced up I seen what I seen I guess that mean hold him down if he say he can't breath It's too many mothers that grieving They killing us for no reason Been going on for too long to get even Throw us in cages like dogs and hyenas I went to court and they sent me to prison My mama was crushed when they said I can't leave"
"You can't fight fire with fire I know but at least we can turn up the flames some Every colored person ain't dumb And all Whites not racist I be judging by the mind and heart I ain't really into faces Fucced up the way that we livin is not getting' better you gotta know how to survive Crazy I had to tell all of my loved ones to carry a gun when they going outside Stare in the mirror whenever you drive Overprotective, go crazy for mine You gotta pay attention to the signs Seems like the blind following the blind"
"see blue lights, I get scared and start runnin' That shit be crazy, they supposed to protect us Throw us in handcuffs and arrest us While they go home at night, that shit messed up Knowing we needed help, they neglect us Wondering who goin make them respect us I can see in your eye that you fed up Fuck around got my shot I won't let up They know that we a problem together They know that we can storm any weather"
"It's bigger than Black and White It's a problem with the whole way of life It can't change overnight But we gotta start some where Might as well gone 'head start here We done had a hell of a year I'm goin make it count while I'm here God is the only man I fear" 
"Every video I see on my conscious I got power now I gotta say somethin' Corrupted police been the problem where I'm from But I would be lying if I said it was all of 'em I didn't do this for the trend I don't follow them Altercations with the law, had a lot of 'em People speaking for the people I'm proud of 'em Stick together we can get it up out of 'em I can't lie like I don't rap about killing and dope But I'm telling my youngins' to vote I did what I did cuz I didn't have no choice or no hope I was forced to just jump in and go This bullshit is all that we know But it's time for a change"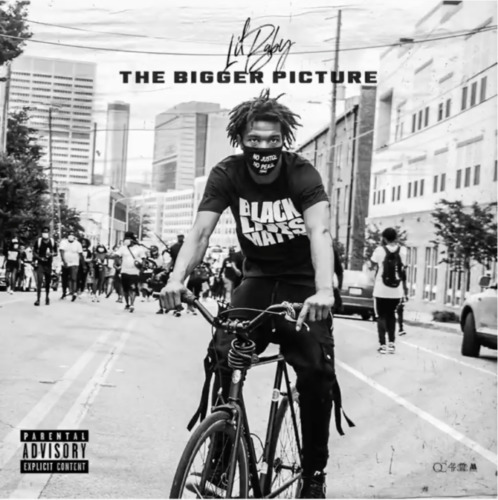 Listen to the official audio for Lil Baby's "The Bigger Picture."
Text Lil Baby at 678-496-7757
© 2020, Wilde Tuna. All rights reserved.