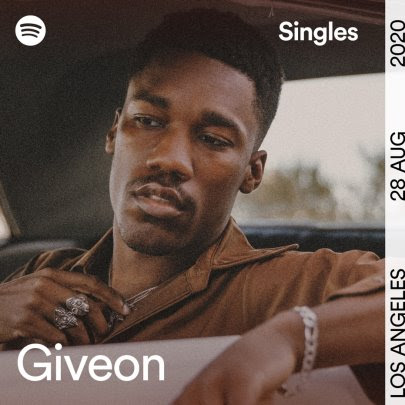 Critically acclaimed Long Beach singer/songwriter Giveon releases the first-ever Are & Be Spotify Singles, which coincides with the new look and feel of the Are & Be flagship playlist.
Exclusive to Spotify, "Like I Want You" (Side A) is a reworking of Giveon's original song which charted at #25 on the Billboard Hot R&B Songs chart, and "Untitled (How Does It Feel)" (Side B), is a cover of D'Angelo's iconic 20-year-old hit.
Coincidentally, Giveon's recordings were mixed at Electric Lady Studios, the same place that D'Angelo recorded "Untitled (How Does It Feel)" twenty years ago.
"Really excited to share this version of 'Like I Want You,'' says Giveon. "It's a very personal piece, so stripping it down allows the vocal to be the star of the show. Also, covering an R&B Classic is the icing on the cake. Working on these two songs were a beautiful time for me. "
ABOUT GIVEON
GIVEON infuses Rat Pack-style classiness into modern R&B. Developing his own baritone delivery, he caught the attention of another Long Beach local and multiplatinum singer and songwriter AUGUST 08 [DJ Khaled, Justin Bieber] who served as an initial mentor. In 2018, GIVEON independently made his debut with "Garden Kisses" (2.7M Spotify streams to date) and "Fields," clocking 1.5M Spotify streams so far.
A year later, he joined forces with producer Sevn Thomas [Drake, Rihanna, Travis Scott] and further honed a signature style of his own. In 2019, he also performed "Giveon Unplugged" to a packed crowd at Soho House in addition to leading a songwriting camp sponsored by Remy Martin and Asics alongside top producers and songwriters such as boi-1da, Jahaan Sweet, Sevn Thomas, WondaGurl, Charlie Handsome, and more. Afterwards Snoh Aalegra personally invited him on her headline tour.
Giveon's vocals, which have already provided him with a banner moment in 2020 singing the hook on Drake's "Chicago Freestyle," are a force to be reckoned with.
His debut EP Take Time was released in March 2020 and has received widespread acclaim from fans and critics alike including Billboard, Elle, V Man, Teen VOGUE, Hypebeast, and more. The project has amassed 20M + US streams across Spotify platforms since its release and his rapidly-expanding fanbase is already clamoring for a follow-up project across social media. With more music on the horizon, Giveon ignites a new era for his hometown and a sound unlike anything out there.
FOLLOW GIVEON ON TWITTER
FOLLOW GIVEON ON INSTAGRAM
© 2020, Seth "Digital Crates" Barmash. All rights reserved.