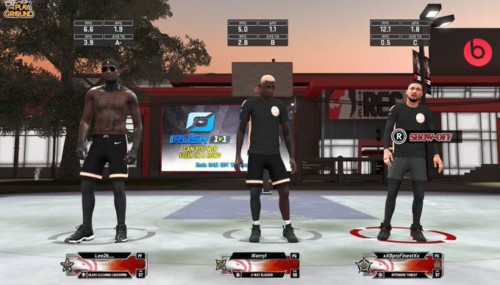 Hawks Talon Wins Four Games Against Team Savage and Knicks Gaming To Propel Into Round of 16
Last night, Hawks Talon GC, the official NBA 2K League affiliate of the Atlanta Hawks, played and won a total of four games during their debut in the first-ever NBA 2K League Three For All Showdown. To start off the night, Hawks Talon GC had a play-in round against Team Savage, which featured Washington Redskins and former LSU All-American running back Derrius Guice, and outscored them in both games, 22-19 and 21-13. After that, Hawks Talon GC beat Knicks Gaming by scores of 25-22 and 21-11. As a result of these two matchups, Hawks Talon will play Wizards District Gaming in Round 2 of the showdown on Thursday, April 2.
"It felt great to see the team compete hard and have some fun," said Hawks Talon GC Head Coach Wesley Acuff. "The team communication was great, and both Lee and followTHEGOD really played some good defense. Bp did what he does, and he put on a show for everyone. We're proud of how they competed out there."
We're on to Round 2 of the @NBA2KLeague Three For All Showdown on 4/2!@Lee2k__ _ x @followTHEGOD_ x @BPTHEGOD_ pic.twitter.com/sRPro7Hoy5

— Hawks Talon GC (@HawksTalonGC) April 1, 2020
Hawks Talon GC's starting three features Michael Diaz-Cruz, known as Bp, who is playing as xXBptzFinestXx. He was a finalist for the 2019 Intel Performance NBA 2K League Most Valuable Player Award after being drafted third overall in the 2019 NBA 2K League Draft. Joining him are Levi Lamb, known as Lee, who is playing as Lee2k__ and Kwan Niblack, Jr., known as followTHEGOD, who is playing as IKerryL.
"We were very happy to have an opportunity to put on a show for the city of Atlanta," said Diaz-Cruz. "My new teammates, Lee and Kwan, each played a big role in us earning those wins against Knicks Gaming and Team Savage, and we're looking forward to moving onto the next round of the showdown."
The NBA 2K League 'Three For All Showdown' features WNBA and G League ballers, special guests, pro athletes from other sports leagues, the top fan teams from last week's bracket and some of the top 2K League players. All series aside from the final rounds of each bracket will be played in best-of-three format with the final round matchups being best-of-five. The NBA 2K League's first-ever 'Three for All Showdown' includes a $25,000 prize pool; $15,000 is available to the non-NBA 2K League teams in the second stage, $9,000 is available to the NBA 2K League teams and $1,000 available to the winners of the fan only brackets in the first stage.
Fans can watch the streams of the NBA 2K League Three For All Showdown on Twitch and YouTube at 8 p.m. tonight. Hawks Talon GC's games will be streamed live on the club's official Twitch channel.
Follow @eldorado2452 on Twitter and Instagram for all your music and entertainment news.
© 2020, Eldorado2452. All rights reserved.