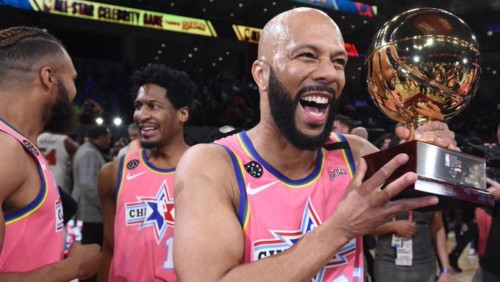 The 2020 NBA All-Star weekend events are underway in Chicago this weekend, and on Friday night, the NBA got the party started with the 2020 NBA Celebrity All-Star Game.
As some of the biggest entertainers and athletes gathered for the Celebrity including Chance The Rapper, WNBA star Aja Wilson, Bad Bunny, Quavo, Chicago Bulls legend Horace Grant and more, Chicago native Common stole the show. After scoring 10 points along with 5 rebounds and 3 assist, Common lead Team Michael Wilbon to a (62-47) victory over Team Stephen A. Smith.
Common wasn't the only person fulling up the stat sheet. Las Vegas Aces star Aja Wilson scored 11 points, Hip-Hop star Quavo added 9 points. Social Media star Famous Los added 25 points.
Check out a few of Common's highlights from his 2020 NBA Celebrity All-Star Game performance above. Follow @eldorado2452 on Twitter and Instagram for all your NBA and sports news.
© 2020, Eldorado2452. All rights reserved.