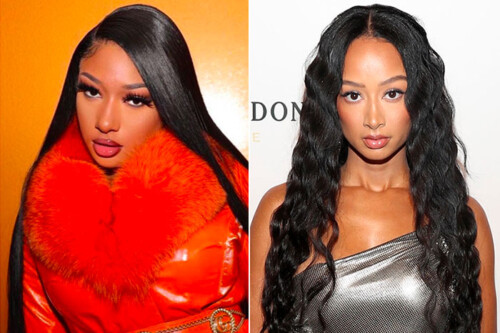 A lot of content has popped up on social media amidst all the Tory Lanez & Megan Thee Stallion drama around the shooting incident. Meg was shot multiple times while Tory was arrested and charged with gun possession. While details still remain at the minimum, everybody has been putting in their two cents – including Draya Michele. In her latest interview with "Wine & Weed" Podcast, Draya decided to compare Meg & Tory to Whitney Houston and Bobby Brown's turbulent relationship.
"I predict that they had some sort of Bobby and Whitney love that drove them down this snapped-esque type of road. I'm here for it. I like that. I want you to like me so much you shoot me in the foot too," said Draya.
Well, Meg didn't appreciate any of her comments.
Dumb bitch that shit ain't fucking funny who tf jokes about getting shot by a nigga

— HOT GIRL MEG (@theestallion) July 22, 2020
And fuck all the hoe ass niggas making jokes about it too🖕🏾 I'll talk about shit when I get ready

— HOT GIRL MEG (@theestallion) July 22, 2020
Draya got a hold of what Meg had to say quick fast and decided to "clarify" her statements.
"It was a 'prediction' guys. I have no idea what really happened and I hope nothing but the best for both of them," she commented before adding, "I really shouldn't have been joking about it. It's a foul for me."
Fans quickly chimed in stating it was going to get ugly for Draya.
Draya is gonna get cooked. pic.twitter.com/Nxf2ETUmwr

— E for Entanglement (@Kompahontas) July 22, 2020
While all the details remain on the hush, the LAPD continue to point the fingers at Tory as the potential shooter.
"I suffered gunshot wounds, as a result of a crime that was committed against me and done with the intention to physically harm me," Meg said following the shooting. "I'm incredibly grateful to be alive and that I'm expected to make a full recovery, but it was important for me to clarify the details about this traumatic night."
© 2020, MariaMyraine. All rights reserved.