"ALL THE OG'S IS 30 AND UP!"
BENNY THE BUTCHER, CONWAY THE MACHINE, WESTSIDE GUNN MAKE UP THE NUMBER ONE RECORD LABEL IN THE GAME & HIPHOPSINCE1987 SAID IT FIRST GRISELDA RECORDS!
The Black Soprano Family is back! It's been over twenty five years since we've had these vibes. The year was 1987, the beginning of the Golden Era of Hip Hop and Griselda Records has been ringing bells with authentic bars in its honor. It seems we still embrace the wave of music we claim to "hate" or deem the "commercial sound." Rarely do we get to compare our versions of Top Tier Artists or full record labels to the likes of NWA, Krs One, Ice T, The Lox, Wu-Tang, Roc-fella before the break up, and G-unit, if they applied pressure. We can go down the list of all the legendary Hip Hop super teams, and it's known right now them boys out of Buffalo, New York, are #1! Hiphop's Golden Era Class has given them that title with high regard, so we at '87 have to do the same!
Why #1 you ask?
Simple, the music speaks for itself. The rough, gritty sound has granted the label with sold out concerts filled with every color, every vibe and walk of life: from the streets to the suburbs, the ball players to the college kids. Griselda Records is the authentic sound that can't be put in a box no matter the content. Full of culture and truth, the grimy hip hop with quality references to childhood favorites and sound bites from classic movies, like Scarface and interviews from Pimp C Take, you are taken back to a time when being gangster came with a code. Play Benny at the cook-out or on my way to the office; the vibe is welcome at all times."I bought the money to the plug house," stated Benny in a recent crowd favorite and they really did!
In 2017, Eminem also known for "tell it like it is" hip hop, was blown away by the group and signed one of the members to Shady Records. Features over cosigns is what lead to projects and records with Black Thought, Busta Rhymes, and Static Selektah. High profile interviews with artists like Drake have been quoted saying he would love a Griselda/Benny the Butcher feature. "I think what they're doing is great." He said. "It just reminds me of a different time and it's not easy to do. To make that music and just come off wavy and be interesting." (via Rap Radar)  He continued to also thank Benny for shouting him out and showing love back.
Here's a few more things on the resume:
Coachella, without an album, records with Kool G Rap, DJ Premier, Alchemist, and Pete Rock while selling out vinyls and merchandise across the map since 2015. Super fans tattooing their faces and names on themselves shows loyalty to the movement. Now here they are in 2020 still working with today's hit makers. Running down the highlighted places it takes to make a mark in the game before a cosign, shows the hustle and their "do it regardless" mentality that it takes to make it in a culture where image has become more important than talent.
Griselda Records has put their stamp on Hip Hop the sturdy way. Now, even with all the cosigns across the map, their recent releases of all these top 5's, top 10's out of New York, and top 10 record labels released, countless blogs and media platforms still fail to accurately place Griselda at the top. HIPHOPSINCE1987 would like to be the first to give Benny & the Griselda Gang the well deserved #1 Spot & official Crown of best Record label!
Respect to the artists who pay homage to those who paved the way, and I personally must pay respect to the group who opened up the lane once again. No, we don't glorify the street life, nor do we glorify crime or any non progressive actions that have and still take place daily in the world. We do, give the highest of Hip Hop praise to the artist who defeats all the odds of the "inner city," takes their hustle story of victory and knowledge you can't knock the hustle. "Why glorify the cars and jewels we already had that before rap" maybe that's why we every day listeners who don't got the bust down, respects the tana talk. Real hustler music, the reasonable doubt, with a bully talking.

-87′
Quick run down for those who have not yet been warned that the "Butcher Coming N****!" Here is some light background history of the rough history these guys come from.
WESTSIDE GUNN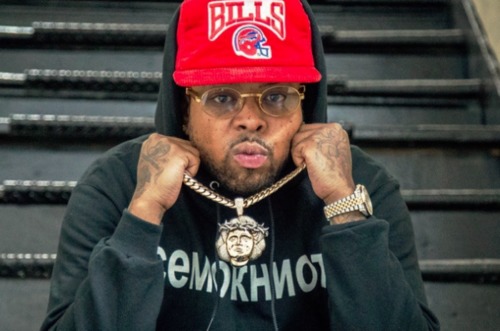 The brother of Conway with whom he forms the duo Hall N' Nash, derives from the names of professional wrestlers Scott Hall and Kevin Nash. Yet another reason why we love this group because who didn't watch wrestling growing up? Aside from the music, Westside Gunn earned his name in the streets and later put that energy into the music industry. Gunn was said to have got Griselda Records the Shady deal 2017. Benny often thanks him live for making them rich, as seen on Sway in the Morning before he dropped his freestyle and also on the Vlad Tv interview. Westide Gunn playing the Dame Dash role landed the group into the hands of Roc Nation and now is seen with bigger moguls such as Jay Z and Diddy, as expected.
BENNY THE BUTCHER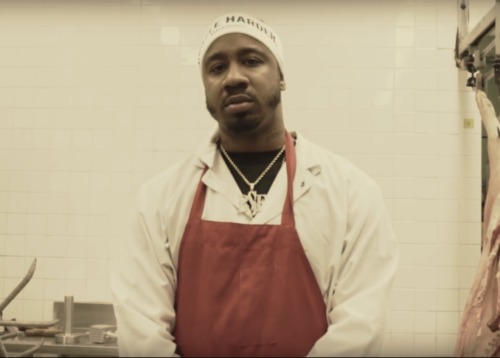 At age 14, he begin his journey from the Trap Game to the Rap Game, in the rare moments in Hip Hop when the artist lifestyle matches the story in rhyme. Why isn't his artistry recognized more often. Our vote in the industry is placed by who we support, who records, who we repost, and whose Instagram we follow. That being said, only two sentences landed him some fed time amongst the everyday struggle of the inner city/dope game.
Benny has no contest about the lyrics and life he says he lived. As all men do he has grown and learned from his past and is now ringing bells from street corners to suburban classrooms. Benny the Butcher self-released his mixtapes in the late 2000s as B.E.N.N.Y., including The Mayor's Back and Chains Bond. In 2014, Westside Gunn founded Griselda Records, through which Benny, Conway and Westside Gunn would self-release their own projects. In 2016, Benny released his album titled My First Brick, followed by the mixtape Butcher on Steroids with DJ Green Lantern in 2017.
On March 3, 2017, Griselda Records signed a deal with Eminem's Shady Records, a subsidiary of Interscope. On November 23, 2018, he released his album Tana Talk 3,produced by The Alchemist and Griselda producer, Daringer. It includes features from Westside Gunn, Conway, and Royce da 5'9″. The album was critically acclaimed and he began to gain widespread attention. On June 21, 2019, he released the extended play The Plugs I Met, which includes guest appearances from Black Thought, Pusha T, 38 Spesh, Jadakiss, and Conway The Machine. On August 6, it was announced that Benny signed a management deal with Roc Nation.
CONWAY The Machine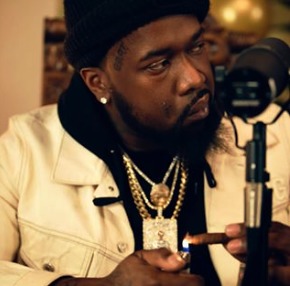 The "Comeback story of the Century" jumped off the porch at 16! We won't dive into the known history— if you listen to the music you know the story. Music that doesn't need interpretation, doesn't need extra cosign, and definitely has no comparison to any current artist. Conway has also been through his share of hardships but as the rest of the gang was able to move on, so was Conway. Even after recovering from fatal gunshot wounds and acquiring Bell's Palsy. Similar to Eminem signee 50 Cent, Conway proceeded to use this near-death experience in his music, which often depicts hyper-realistic street violence told from a first person perspective. Furthermore, his facial paralysis contributed to what Consequence of Sound described as "a mush-mouthed, yet visceral flow reflecting the sheer force of will needed to overcome the incident that could have easily ended his career." On October 10, 2017, Conway contributed an a cappella rap verse to the 2017 BET Hip Hop Awards Shady cypher. The same year, Complex included Westside Gunn and Conway in their list of "15 Best Unofficial Rap Duos in the Game", as well as two of the "17 Artists to Watch in 2017". On May 16, 2019, Conway, Benny The Butcher and Westside Gunn released their first single with DJ Premier titled "Headlines". Conway released "Bang" the first single off God Don't Make Mistakes, alongside Eminem on July 19, 2019. During a Dj vlad interview released on Aug 21, 2019 he had confirmed ScHoolboy Q, Rhapsody, and 50 Cent would be some features on the album and there would be a lead up project before it called "Look What I Became." On September 7th, 2019, Conway had officially revealed the release date of the Look What I've Became mixtape on Instagram and it released on September 13th, 2019 with features from Dave East and more. On September 13, 2019,  Look What I Became was released on all platforms. 2020 is looking good for the Black Soprano Family and you should join the hype
NOW THAT YOU ARE UP TO DATE WITH THE NEW NUMBER ONE RECORD LABEL IN THE INDUSTRY SEE THEM LIVE IN CONCERT AT THE TLA IN PHILADELPHIA  JANUARY 31ST! TICKETS AVAILABLE ON LIVENATION.COM
© 2020, Wilde Tuna. All rights reserved.