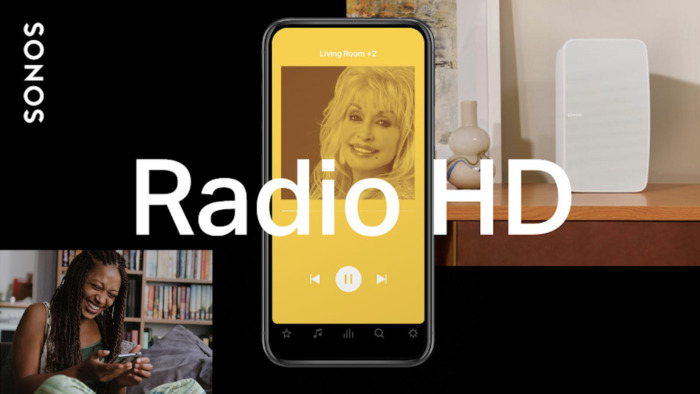 Sonos is excited to share new programming updates coming to Sonos Radio, including stations hand-curated and hosted by some of the world's most inspiring artists and creators like Ghostface Killah, M.I.A. and Geoff Barrow. Adding to its growing catalogue of thoughtful programming, Sonos Radio continues to empower listeners to discover new music through human curation, going beyond algorithmic playlists for inspiration.
Coming to Sonos Radio HD
Sonos Radio HD, the ad-free, high-definition audio tier of Sonos' popular streaming service, Sonos Radio, announces two new artist stations featuring commentary and hundreds of hand-selected tracks and 15 new Genre stations for any mood and music taste.
Two new artist-curated stations from Ghostface Killah and M.I.A., will give listeners exclusive access to the artist's latest inspirations, favorite songs and obsessions.

Ghostface Killah's Blue & Cream station brings listeners inside the creative mind of the founding Wu-Tang member, with his hand-picked beats, soul and R&B tunes. The station is available today, April 20.
M.I.A.'s OHMNI FM station is curated solely by the internationally acclaimed and respected artist and gesamtkunstwerk herself. Inspired by the people, for the times. Station debuts May 5.
New Genre Stations will be coming to Sonos Radio HD on an ongoing basis through May and June. The first round of genre stations, including Scarlet Magnolia Jam Rock, Infinite Darkness, Glide Path, New Wave and Drum'n'Bass, launches today.
Coming to Sonos Radio
Available free to all customers globally in the app, Sonos Radio offers listeners opportunities to learn the backstories of songs, genres, and musical eras from well-known and up-and-coming artists. All shows can be streamed on-demand in the in-app archive and on Mixcloud.
New Stations Coming to Sonos Radio
All Our Sound Radio showcases the best Canadian music and JUNO Awards winners of the past 50 years including Rufus Wainwright, Savannah Ré, Arkells, Corey Hart, July Talk and more, premiering May 5.
Music for Moms and Cinco de Mayo stations will feature songs for the season, airing May 5.
New Live Event Coming to Sonos Radio
Live from Van Gelder Studio is an exclusive Sonos Presents audio-stream of a live performance by jazz musicians including Joey DeFrancesco in the legendary Van Gelder Studio. The show will feature a tribute to the famous Van Gelder Studio Organ that's heard on countless recordings, everyone from Ray Charles to Jimmy Smith. The audio stream will be available under Sonos Presents and the video stream can be found at www.VanGelder.live at 9 p.m. EDT on May 15.
"Our cultural lives are richer because of the work of Mr. Rudy Van Gelder," said Live from Van Gelder Studio producer Phil Coady. "It's not a stretch to say that the 'sound' of jazz evolved in this studio. In working together with Sonos, we know there's an end-to-end focus on audio quality in delivering our live-stream to a new audience."
New Shows Coming to Sonos Radio
Call & Response, hosted weekly by singer-songwriter Adia Victoria, is a defining time capsule of music and culture in this moment, told through conversations with guests about musical lineage, the communal spirit of making and listening to music, and how the 'sacred pause' of this time is reverberating into their art. The first episode is available today on the Sonos Sound System Archive and all podcast platforms. New episodes will air on Sonos Sound System every Thursday and will also be available in the Sonos Sound System Archive and on all podcast platforms same-day.
Always Read the Label is a bi-weekly audio series created in collaboration with Spiritland Productions and hosted by broadcaster and musician Cerys Matthews. Each episode will tell the story of an iconic record label, showcasing the innovative artists and incredible back catalogue associated with them. The first show premieres today, with new episodes airing every other Tuesday on Sonos Sound System as well as the Sonos Sound System Archive and Mixcloud.
Geoff Barrow's Brain Cell is hosted by founding member of Portishead, Geoff Barrow who explores tracks from his years of searching and making music, from West Coast 60's spoken word to German industrial techno. The show launches April 26, with new episodes airing once per month on Sonos Sound System.
Object of Sound with Hanif Abdurraqib is back for a second season, exploring musical topics through personal interviews, profound questions, and unparalleled playlists. Season two launches June 18, with new episodes dropping Fridays on Sonos Sound System and all podcast platforms.  
New Season of Radio Hours from artists including Can, Sun Ra Arkestra, Yola, Dry Cleaning, Lee Scratch Perry, The Mountain Goats, Anohni, Sir Tom Jones, Genesis Owusu, Kenny Gamble, Ghostface Killah and M.I.A.will launch Wednesdays on Sonos Sound System. 
© 2021, Seth Barmash. All rights reserved.