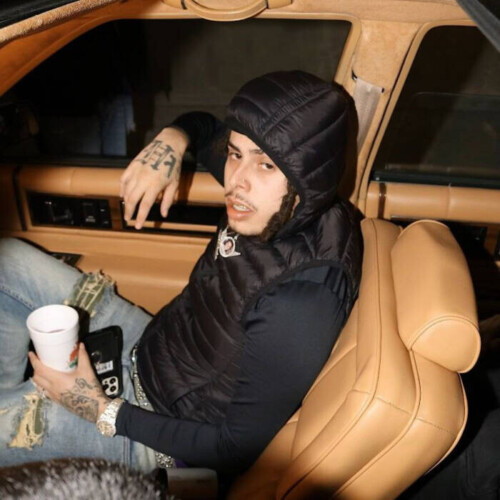 Photo Credit: That Kid Carter
San Antonio's prolific rapper, HOODLUM has just announced the 4/7 release date for his upcoming album, Southside Story, along with a new single, "PRESSURE" and the arrival of "OUTSIDE" (feat. Maxo Kream) on streaming services. HOODLUM broke out on the national stage with his 2019 single, "OJ" (3M Views), taking off online due to his anxious yet punchy flow and subsequently landing on the soundtrack for the horror film, Random Acts of Violence later that year. In June 2021, visual artist Colton Valentine painted a mural of the rapper adjacent to a memorial of Nipsey Hussle, solidifying HOODLUM's spot as a San Antonio Star. Maxo Kream caught onto HOODLUM's wave in 2021, jumping on "OUTSIDE" which helped HOODLUM subsequently garner the attention of No Jumper who reached out to book him an interview on the podcast. His laidback flow, off kilter cadence, and an ear for deep and bass heavy beats has set HOODLUM apart as an emcee with a sound that's uniquely his own. In the words of Pitchfork, "No rapper in Texas right now has a better beat selection than San Antonio's HOODLUM. The South Side rapper can lay his croaky delivery over any type of instrumental: a soul sample, trendy minimalist Texas production, or a Bay Area funky flip." HOODLUM is now gearing up to tell his complete life story through his debut album, Southside Story with features including Maxo Kream, Paul Wall, Valee and Doeman. Southside Story features HOODLUM rapping with his signature low-key Texan flair over an impressive array of beats ranging from G-Funk to hard-hitting Southern Trap to Boom-Bap with a select few star features to match.
Fresh off the release of LOST FILES 2 in January, HOODLUM is continuing to expand upon his dynamic sound with his forthcoming debut album, Southside Story. The upcoming project is a strong statement from HOODLUM, as he boasts about his lifestyle and shares introspective reflections on his past life. In his new single "PRESSURE", HOODLUM showcases his punchy flow and unique delivery over a mesmerizing piano loop and stuttering hi-hats. On "OUTSIDE" with Maxo Kream, the duo show off their undeniable chemistry as they exchange magnetic verses over the bouncy production, with HOODLUM handling the striking hook. Boasting features from Texas Hip-Hop icon Paul Wall, Maxo Kream, Valee and Doeman, the album as a whole helps to showcase HOODLUM's diverse sound, expressive lyricism and croaky flows – all with an unapologetically southern style.

© 2023, Seth "Digital Crates" Barmash. All rights reserved.