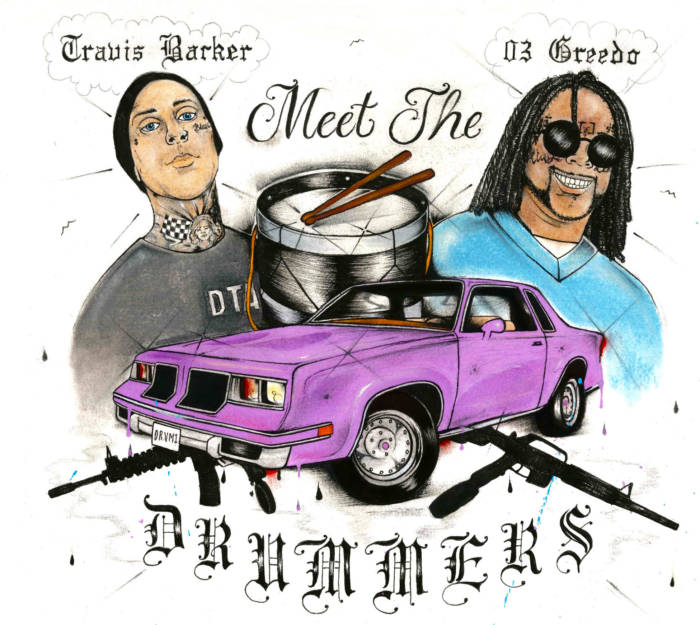 03 Greedo and Travis Barker's joint project Meet The Drummers is a Greedo cocktail of equal parts brazen confidence in his rising fame in the rap game and deep anxiety for his time away, backed by Barker's blend of bright keyboards and rattling bass. Greedo's cockiness comes through on tracks like "Detention," with lines like, "might catch a fade on the way to see my counselor / let me out my cell I gotta serve these ounces." Conversely, Greedo shows his vulnerability on "Felony" as he opens up about missing his lady and fears of betrayal, "keep it 100, don't you tell on me."
Greedo acknowledges Meet The Drummers is only the beginning for the dynamic duo, "This is just a preview of the music Travis and I are about to start working on coming soon. I want him to do more production on my next solo album, and I'm sure we'll do a full project together later on too."
Meeting between their respective styles on Meet The Drummers, Greedo wields his inimitable vocals above Barker's production. Titled after Greedo's crew The Drummer Gang and Travis Barker's status as one of music's most respected percussionists, Meet The Drummers is out now via Alamo Records.
Meet The Drummers Tracklisting
Cellout
Detention
Felony
Trap Again
Whatever Happened
© 2019, Seth Barmash. All rights reserved.